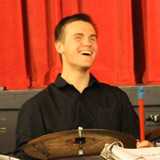 It was the second night of the school play. The show was called Crazy for You, a collection of jazzy Gershwin tunes, and I was on drums. I was ready. There was only one problem: I felt sick.
Somewhere in the acidic underbelly of my fleshy bits, my BBQ ribs from lunch churned a little. I excused it as nothing and strode over to my flashy drum set in the orchestra pit as the lights dimmed for the beginning of the show. I sat down and felt a little wave of nausea again.
I turned to my orchestra buddy and whispered, "Bro, I feel kinda sick." He whispered back, "You'd better not throw up on me, man," and the show began.